WHITRAP co-hosted at the side event on the Everything You Wanted to Know About World Heritage Capacity Building
Key Words: Capacity Building,the Extended 45th session of the World Heritage Committee
Introduction.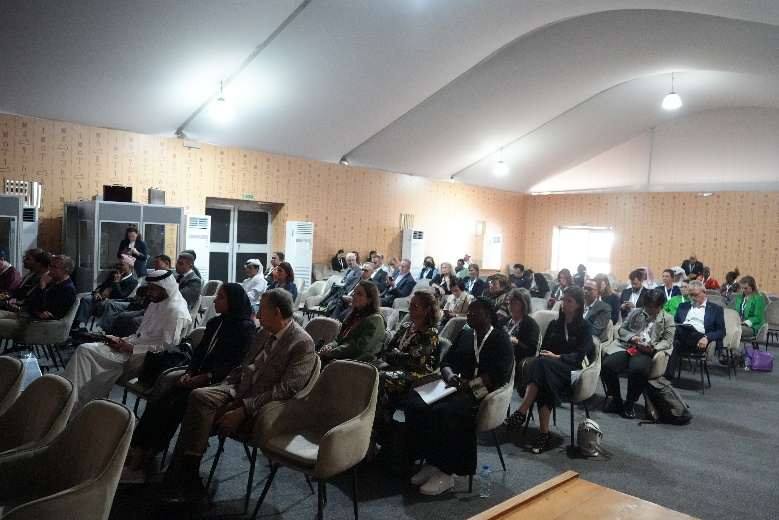 Audience on the scene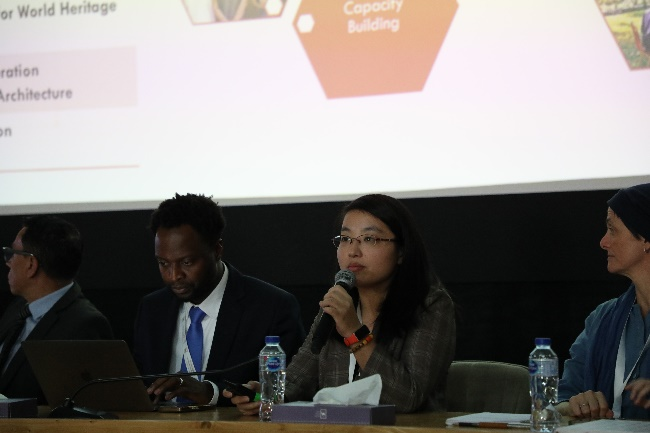 Ms. LI Hong made the presentation
The side event on the Everything You Wanted to Know About World Heritage Capacity Building, was held on 16th Sept during the Extended 45th session of the World Heritage Committee, which was co-organized by World Heritage Center, ICCROM and Category 2 Centers. Ms. LI Hong represented and made a speech on the Capacity Building at WHITRAP. About 50 people joined the event. Participants learned the capacity building activities and overviewed the possible collaboration cross the regions and State Parties.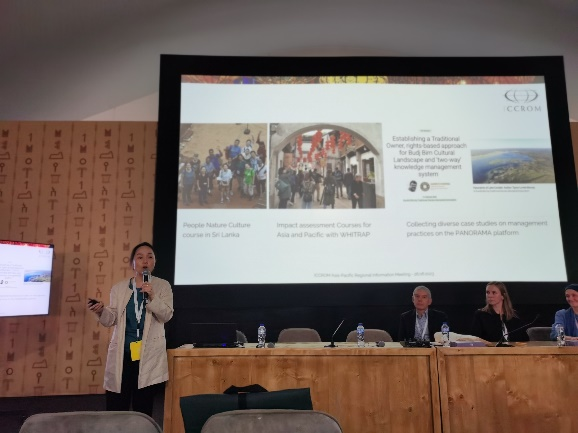 Eugene Jo from ICCROM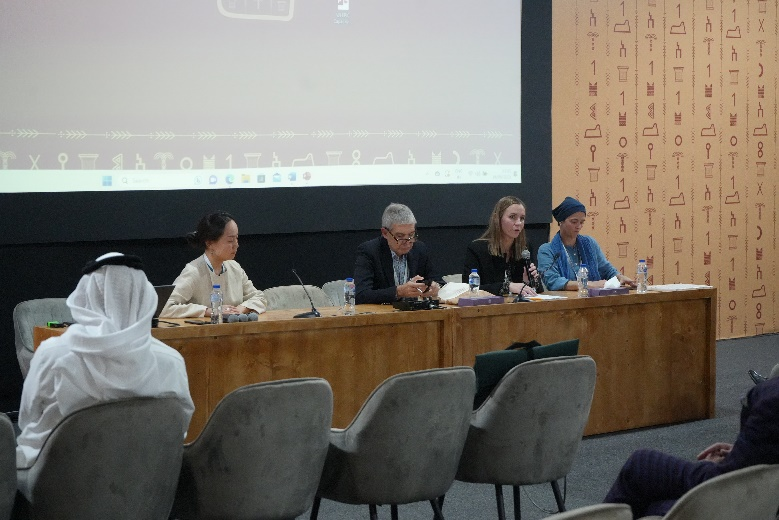 Mrs. Desire Hopen Standal of Norwegian Ministry of Climate and Environment (right) and Mr. Mauro Rosi, chief LAC unit of WHC (middle)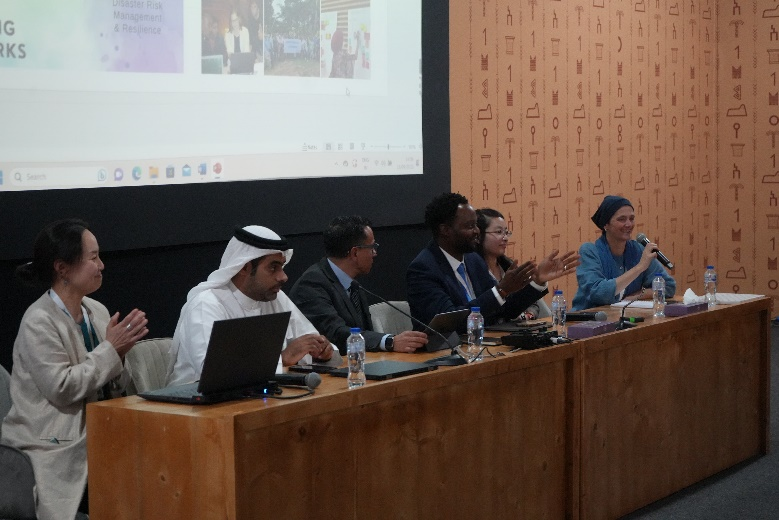 Mrs. Valerie Magar from ICCROM moderated the side event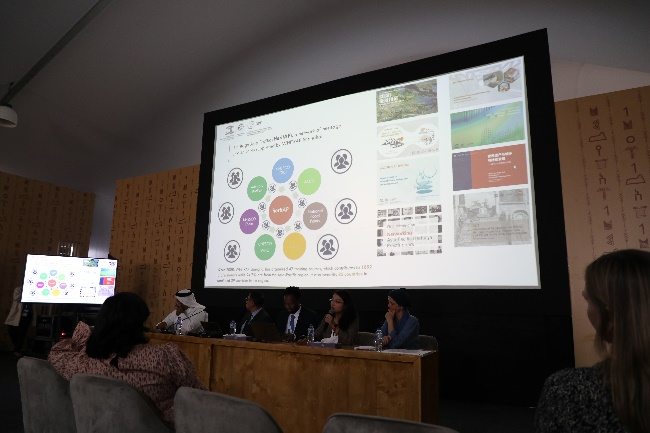 C2Cs members

Eugene Jo, manager of ICCROM WH Leadership Programme, introduced the World Heritage Resource Manuals and associated courses. Mrs. Desire Hopen Standal, senior advisor of Norwegian Ministry of Climate and Environment, highlight the importance of capacity building and expressed the continued support for the programme. Mr. Mauro Rosi, chief LAC unit of WHC, advocated to build synergies for capacity building working among WHC, ICCROM and C2Cs, although there are regional mandates. Representatives from five C2Cs, Arab Regional Centre for World Heritage (ARC-WH), African World Heritage Fund (AWHF), Regional World Heritage Institute in Zacatecas (IRPMZ),World Heritage Institute (WHITRAP), and International Centre for the Interpretation and Presentation of World Heritage Sites (WHIPIC), introduced the capacity building activities respectively.


In line with the World Heritage Capacity Building Strategy, Ms. LI Hong recalled the shifts from "training" to Capacity Building and introduced the programme-based approach of Capacity Building at WHITRAP. In that case, the activities cover all types of target audiences including practitioners, institutions as well as communities and networks. Meanwhile, the capacity building can be implemented by research, training and good practice shared through HeritAP (a network of practitioners supported by WHITRAP Shanghai). 7 priority programme themes were presented in accordance with the UNESCO WHC featured activities and the urgent needs from the State Parties, which were Asia-Pacific Regional Capacity Building Strategy, Historic Urban Landscape, Impact Assessment in World Heritage Context, World Heritage and Sustainable Tourism, Management Planning for World Heritage, Conservation and Restoration Techniques of Ancient Architecture and World Heritage Education.
Some good practices of capacity building were highlighted. For example, the World Heritage and Sustainable Tourism – Chinese Pilot Studies was shared and the improvement of conservation and management of WH Wulingyuan was reviewed and recognized by IUCN through the IUCN World Heritage Outlook 3 (2020). The continued focus on Impact Assessment and other programmes to regional, national and property level were presented and welcomed by the audience. Draft future plan (2024-2025) was introduced under the priority programmes and triggered more talks between representatives from the State Parties in Asia and the Pacific Region and other professional partners.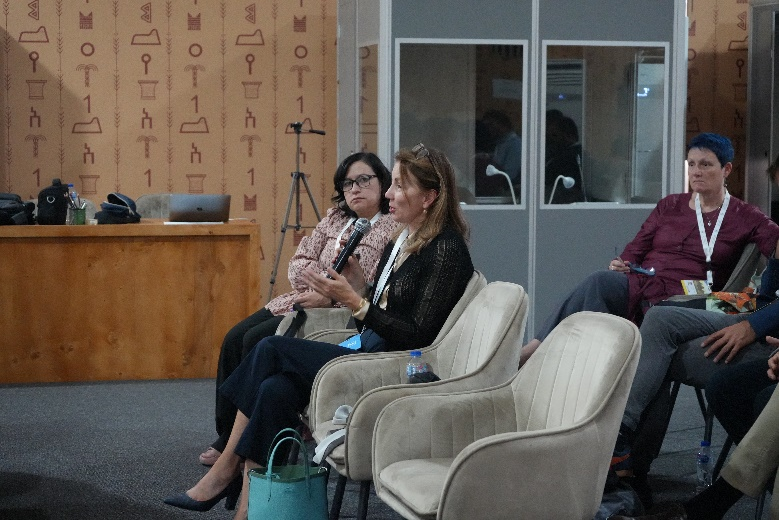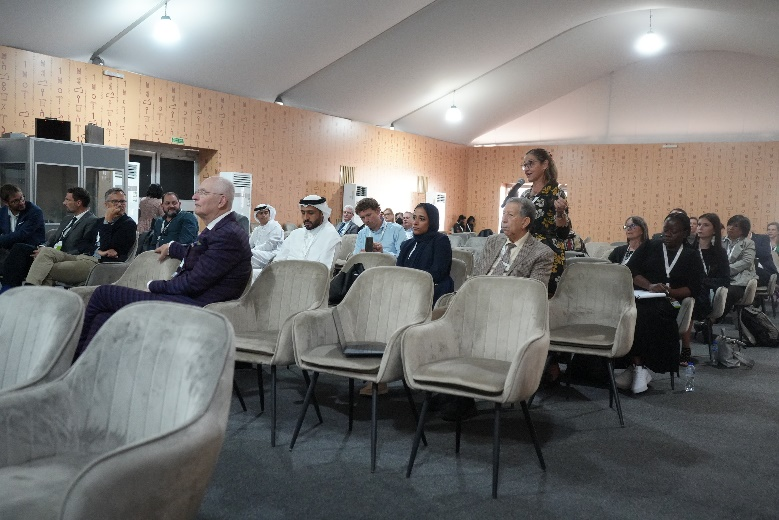 Q & A