Earth Day 2020 - Message by Mahmood Akhtar Cheema, Country Representative, IUCN Pakistan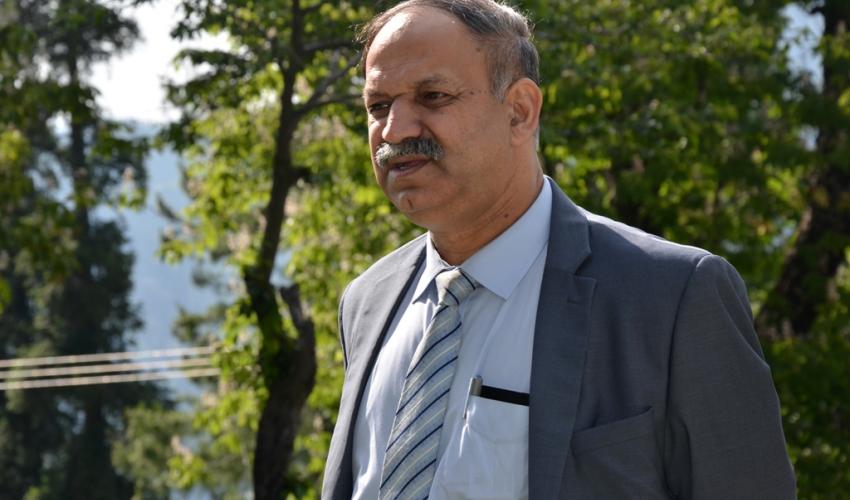 Description:
https://www.iucn.org/news/pakistan/202004/earth-day-2020-message-mahmood-akhtar-cheema-country-representative-iucn-pakistan
Introduction.
Today the Earth Day 2020 is being celebrated all over the world digitally due to COVID-19 crisis. This year, the theme is "Climate Action." The COVID-19 pandemic is also linked to the health of our ecosystem. Climate change, man-made changes to nature can increase contact and the transmission of infectious diseases from animals to humans like COVID-19. According to UN Environment: "From one new infectious disease that emerges in humans every 4 months, 75% of these emerging diseases come from animals".
IUCN reiterates its commitment to conserving nature for a healthy planet and people. We continue to help communities in these uncertain times while stepping up areas of work that will help us understand and address the underlying drivers of diseases that arise from human contacts with wildlife or livestock – known as zoonotic diseases.

Many IUCN programmes, Members and Commissions are already working on issues that will help us better understand and recover from this crisis. The IUCN Species Survival Commission and Commission on Ecosystem Management are working to rapidly improve our understanding of how such transfers of pathogens take place as a result of human activities, such as illegal wildlife trade and land use change.

Land use change is a key driver of emerging zoonotic diseases. Deforestation, habitat loss habitat fragmentation and an expanding agricultural frontier increase the contacts between humans and other animals, potentially increasing the chances of zoonoses emerging and spreading. This is why protected areas and environmental law must be part of our global strategy to reduce or prevent future disease episodes. In understanding the consequences of human activities that lead to the spread of zoonotic diseases we can ensure we rebuild thoughtfully, and clearly communicate effective long-term remedies to actors ranging from policy makers to local communities.

The COVID-19 crisis has invited human attention towards humanity's relationship with the natural world and the impact of our activities. In the wake of the loss to the human lives and economy there is an opportunity for humans to follow a thoughtful sustainable path.

Protection of biodiversity can be part of the solution since this diversity of species would make difficult to pathogens to spread rapidly.

IUCN Pakistan is carrying out various projects on conservation of biodiversity and deforestation in the country.

Partnerships for Biodiversity Conservation in Thar project has been designed based on the recommendations given in the National Vulture Conservation Strategy and Action Plan developed by IUCN Pakistan. It was done with the support of regional consortium SAVE (Saving Asia's Vultures from Extinction), Asia Regional Steering Committee and National Vulture Recovery Committee in coordination with the Ministry of Climate Change, Government of Pakistan. The project will therefore address two primary causes for the decline in the population of vultures in Pakistan: one is the veterinary use of the drug diclofenac, and the other is habitat loss.

The other project titled: "Natural resource-based conservation management and community livelihood: Possible role of mangroves in curbing sea intrusion in the Indus Delta" is being implemented in the Indus Delta. The project, aimed at replanting mangroves, was designed in response to the Government of Sindh's desire to combat land degradation caused by sea intrusion in the coastal areas of Sindh and to provide alternative sources of livelihoods to largely marginalised communities residing in the area.

A project title: "Sustainable forest management to secure multiple benefits in Pakistan's high conservation value forests" is being implemented in Pakistan. The project objective is to promote sustainable forest management in Pakistan's Western Himalayan Temperate coniferous forests, Sub-tropical broad leaved evergreen thorn (Scrub) and Riverine forests for biodiversity conservation, mitigation of climate change and securing of forest ecosystem services. In particular, it aims at implementation of three inter-related and mutually complementary components that are focused at addressing the barriers of inadequate planning, regulatory and institutional frameworks to integrated forest resource management, and the limited experience among key government and civil society stakeholders in developing and implementing SFM practices on the ground.

Italian funded project "Biodiversity Safeguarding in Northern Pakistan" is aimed to assess the impact of infrastructure development on the biodiversity in the area. Various assessments of species status in coordination with government of Gilgit Baltistan and Ministry of Climate Change are underway. IUCN in Pakistan is focused to conserve and restore the natural resources including forests, water and biodiversity resources in particular.

IUCN Pakistan is an implementing partner in Government of Pakistan's 10 Billion Tree Tsunami Programme. Ten Billion Tree Tsunami Programme (TBTTP) aims to restore degraded forests and ecosystems and conserve biodiversity in order to maximize environmental, social and biodiversity benefits. The programme is based on the success of the "Billion Tree Afforestation Project (BTAP) or the "Billion Tree Tsunami" implemented by the Government of Khyber Pakhtunkhwa. IUCN's role will be to monitor the programme.

Enhancement and proper management of Protected Areas can also ensure human well-being and conservation of biodiversity. Astola the first ever Marine Protected Area was declared in the country with collaborative efforts of the IUCN-MFF, the Ministry of Climate Change, the Government of Balochistan, Ministry of Defence, Pakistan Navy and other stakeholders.

IUCN and Sindh Engro Coal Mining Company have recently launched the first ever assessment of flora and fauna in Tharparkar. The assessment will be a useful tool in the future management of wildlife management and conservation of the endangered species.

We hope to drive our initiatives forward with the supreme objective of ensuring climate action for the benefit of us all!



Mahmood Akhtar Cheema
Country Representative
IUCN Pakistan
IUCN (International Union for Conservation of Nature)
1 Bath Island Road, Karachi 75530, Pakistan
www.iucn.org