NEW MEANING OF EARTH DAY IN 2020: Business' Perspective for Nature Conservation Post COVID-19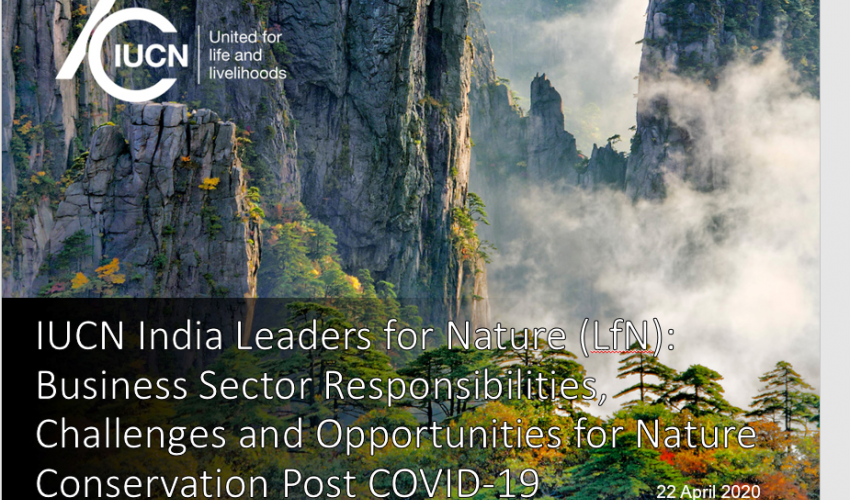 Description:
https://www.iucn.org/news/india/202004/new-meaning-earth-day-2020-business-perspective-nature-conservation-post-covid-19
Introduction.
IUCN India hosted a virtual discussion with big corporate houses on "Business Sector Responsibilities, Challenges and Opportunities for Nature Conservation Post COVID-19" on 22 April 2020.
The coronavirus outbreak is first and foremost a human tragedy, affecting hundreds of thousands of people. It is also having a growing impact on the global economy. Beyond the direct and immediate consequences of this particular virus, focus has also started shifting towards thinking about the emerging infectious diseases and their links with biodiversity loss, human activities, vulnerability of global supply chains and issues of sustainability.

The current COVID-19 pandemic which is increasingly contributing to an unpresented human tragedy and economic loss, also gives us an opportunity to pause and re-think on the developmental trajectory of countries and economies Beyond the impact on humans, much attention has turned towards humanity's relationship with natural world and the impact of our activities has on not just the natural world but to countries and general to the world. Leader's for Nature, an IUCN India Business Engagement Network stimulates and facilitates companies in transcending towards a green India economy by incorporating natural capital in their core business. The online discussion platform organized on 22nd April 2020, on the event of 50th Earth Day provided an opportunity to understand the business sector challenges and opportunities related to nature conservation post Covid -19 scenarios.
Biodiversity loss, habitat fragmentation, illegal wild life trade, climate change, land use change among others are some of the factors that have often been identified as possible reasons for such recurrence and emergence of animal borne pandemic diseases globally. Nature, Biodiversity and interrelated symbiotic, known and unknown relationships of microorganisms, flora and fauna not only ensure balanced and harmonious coexistence of species including humans, but also offers solutions for inventing medicines for various diseases and addressing health concerns.

The online forum was inaugurated by, Dr. T P Singh, Deputy Regional Director, Asia Regional Office, IUCN Bangkok, who addressed the virtual gathering by emphasizing upon the need for incorporating nature to achieve stable business productivity and community livelihood challenges. He stressed on the fact that Nature has its own way of healing, and does not require the assistance of humans for its sustenance. Dr. Vivek Saxena, Country Representative, IUCN India also followed by quoting that pandemic crisis sees no geographical boundary and the temporary reduction of human footprint worldwide is not a solution. Dr. N.M. Ishwar, Programme Coordinator provided a detailed overview of the programme and activities of IUCN India office and also informed the members on the new dates of World Conservation Congress 2021.

The discussion was participated by 17 corporate members like ITC Limited, Toyota Kirloskar Motor Pvt Ltd, Aditya Birla Group, ACC Limited and Tata steels to name a few, and discussed how industries are contributing and their thoughts on biodiversity conservation an opportunity to sustain businesses.

They highlighted that by promoting and practicing conservation activities, organizations have been benefitted at their industrial sites by reduced dust, relief in ambient temperatures, water quality and soil fertility around their project sites, to name a few. These industrial backbones of the country shared their positive experiences with biodiversity, as it helped them understand the needs of systematic functioning of the ecosystem as a unit. These companies have presented an example of conservation efforts to sustain native plants species, reduction in introduction of alien species in the landscape, development of butterfly parks, wetlands protection and uplifting the degraded landscapes in and around their industrial sites. Dr Hishmi Jamil Husain, TATA Steel Limited shared the priorities of the company which swiftly moves in favour of biodiversity conservation and landscape restoration.

The Energy and Research Institute (TERI) represented by Ms Livleen Kaur Kahlon directed the discuss through youth participation and engagement. In our forthcoming engagement with TERI, IUCN will be promoting nature stewardship among youth by bringing in scientific reasoning, nature exposure and city forest walks to nurture these young minds with importance of nature and its priorities. Mr. Dhaval Negandhi, The Nature Conservancy (TNC) shared conservation tools and knowledge products introduced for corporate- biodiversity measure.

Ms. Alka Talwar, introduced Initiatives by TATA Chemicals, which focuses on disaster relief, community resilience exercises and their extensive work on the marine ecosystem. She raised the concerns about alternate livelihood creation and pave them the way forward for sustainable living practices. Working with Government of India in 15 states on health, water, sanitation, education, child nutrition and child protection, Mr. Surjoy Mojumdar, UNICEF also reflected on their current initiatives of hand washing during COVID-19 times and encouraged corporates to follow protocols.

The aim of the discussion was to understand the identified challenges and opportunities for the corporates. The key challenges identified by the corporates includes the need for research and communication to fill the gaps between biodiversity and business; there is also a possibility of budget allocation crunch to work on pure biodiversity projects post COVID-19; lack of understanding of tangible values of biodiversity.

Some of the opportunities identified are- Corporates agreed that the businesses are progressive, forward looking and recognise the need to build a more sustainable future and see this as an opportunity for reconsidering natural capital and their footprint. While corporates will continue to promote biodiversity conservation actions to attain effective regeneration of ecosystem services, importance of rebuilding rural economy will also become a priority for corporates. They also pointed out on the need for coastal erosion prevention through bio shield and mangrove conservation.
Mrs. Archana Chatterjee, Senior Programme Officer, IUCN India closed the consultation by bringing forward the challenges and opportunities discussed by the corporate members during the meeting and concluded with saying that "Nature can fix everything, it does not even need the time; the only necessity for nature is allowing it to grow free and wild without human interference".

The forum was successful in bringing together its corporates members to discuss the uncertainties in the upcoming times and the importance of natural capital to be maintained in the post COVID-19 world.