ICCROM Lecture Series: Holistic, Sustainable and Resilient Recovery of Cultural Heritage following Disasters and Conflicts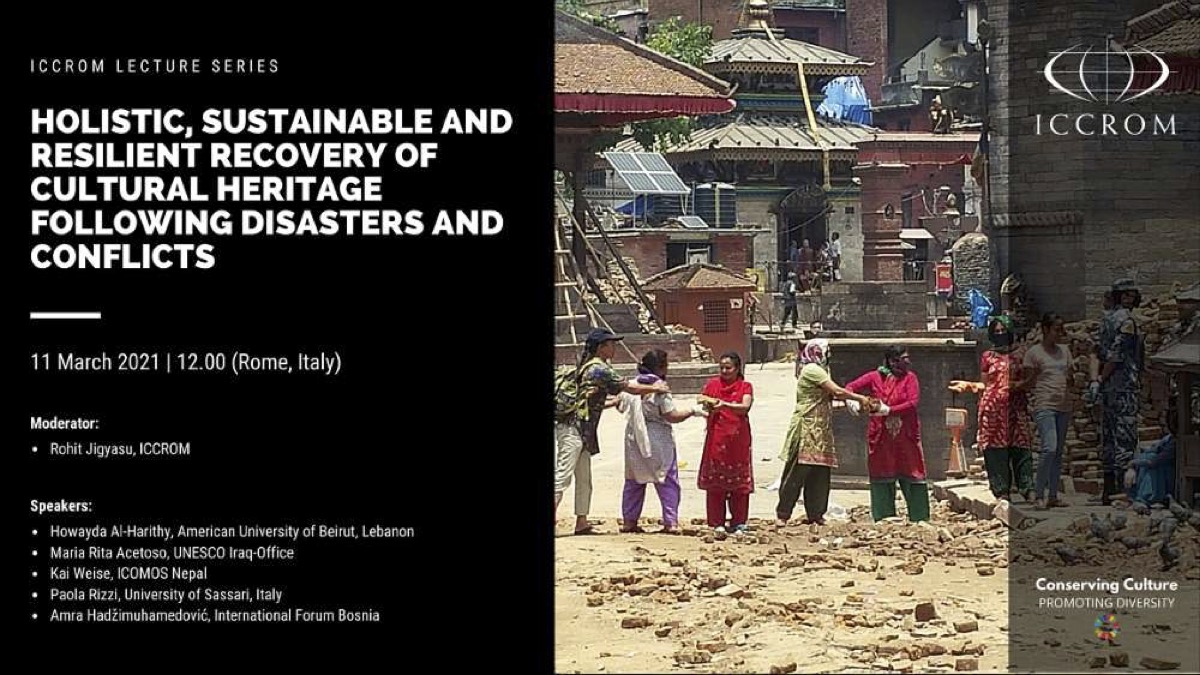 Introduction.
Date:
11 March 2021
Time:
12:00 PM (Rome, Italy)
Location:
Online
Moderator:
Rohit Jigyasu, ICCROM
Speakers:
• Howayda Al-Harithy, Professor of Architecture and Urban Design, American University of Beirut & Research Director at the Beirut Urban Lab
• Maria Rita Acetoso, Senior Project Manager, Culture Unit - UNESCO Iraq Office;
• Kai Weise, President, ICOMOS Nepal
• Paola Rizzi, Professor of Urban Design and Planning, Diver s City lab, University of Sassari, Italy
• Amra Hadžimuhamedovic, International Forum Bosnia, Director of the Centre for Cultural Heritage
Description:
Recovery of cultural heritage following disasters and conflicts can indeed serve as opportunity for reducing vulnerabilities, enhancing the capacities, and building peace & reconciliation, while also protecting heritage values to the best possible extent. The webinar intends to present the lessons learnt from recovery initiatives in Iraq, Lebanon, Italy, Bosnia and Nepal.
Register in advance for this webinar: https://iccrom- org.zoom.us/webinar/register/WN_xjhEG-nQQBuVAtlq0uDGIA
* Registration is required

Live stream on YouTube:
https://ddei3-0-ctp.trendmicro.com:443/wis/clicktime/v1/query?url=https%3a%2f%2fyoutu.be%2fzN2IpXziN6w&umid=46D7DA3C-BD24-9805-B3C8-318C68795B06&auth=52eb06eecd01ca8b0fc99b8caddd721d4bb9fd72-e2a03f66aa437fe36a076256adeb6b85844d99c6