Call for case studies, deadline 30 April 2021: UNESCO World Heritage Cities Forum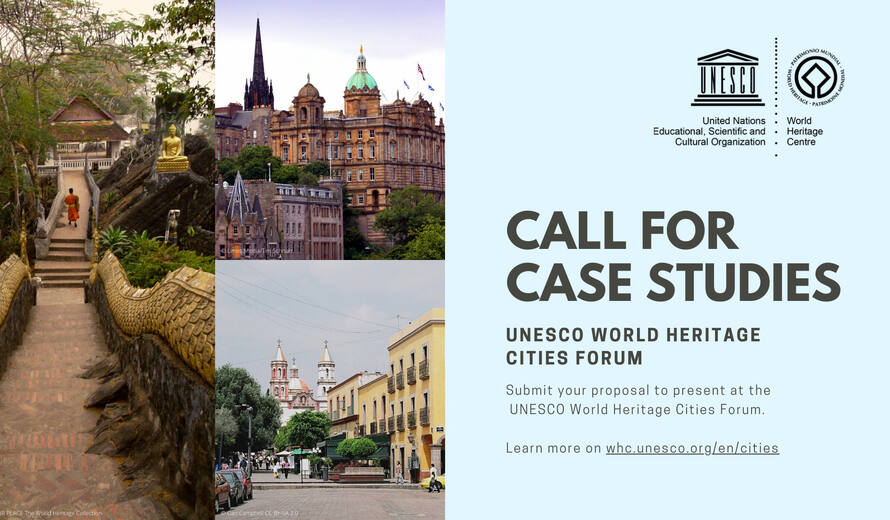 Introduction.
The World Heritage Cities Programme is calling for case studies of Innovative Actions implementing the approach of the 2011 UNESCO Recommendation on the Historic Urban Landscape (HUL Recommendation) , integrating heritage conservation with sustainable urban development, in World Heritage cities. The selected case studies will be presented during the World Heritage Cities Forum 2021, which will take place online this summer (dates will be announced shortly), and will serve to prompt a discussion with the other participants. Subsequently, these case studies will be disseminated through the different channels of the World Heritage Cities Programme.
The World Heritage Cities Programme is a thematic programme to support the conservation and management of urban heritage properties (http://whc.unesco.org/en/cities). It includes more than 300 properties inscribed on the World Heritage List that may be a part of the city (centre, port, quarter, etc.) or the entire town including urban ensembles or groups of historic buildings that are set in and around urban open spaces, streets, markets or residential quarters. The management of such urban heritage is challenging and complex, made especially difficult in the current context of the ongoing pandemic. The World Heritage Cities Forum aims to bring together key individuals responsible for the management of the urban properties – mayors, site managers, experts, academics, as well as representatives of civil society organizations.


The HUL Recommendation celebrates its 10th Anniversary in 2021. This is a valuable opportunity to reinforce its messages of placing heritage at the heart of sustainable urban development, in line with the Sustainable Development Goals (SDGs) of the UN 2030 Agenda for Sustainable Development and the UN New Urban Agenda. In the face of numerous global challenges centred on cities, from climate change to the COVID-19 pandemic, historic cities and settlements are a valuable and irreplaceable resource that must be part of the solution for recovery and rebuilding and to make cities liveable, safe, inclusive, resilient, and sustainable, promoting well-being and cultural diversity.
Further details and selection criteria are available below. Submissions must be made through the online submission form no later than 30 April 2021, at 23:59 (Paris time) in English, French or Spanish.
For further inquiries, send an email to worldheritagecities@unesco.org with the subject "World Heritage Cities Forum 2021".
The application forms are as follow:


Call for cases-UNESCO World Heritage Cities Forum 2021 EN