Side Event of 43rd Session of World Heritage Committee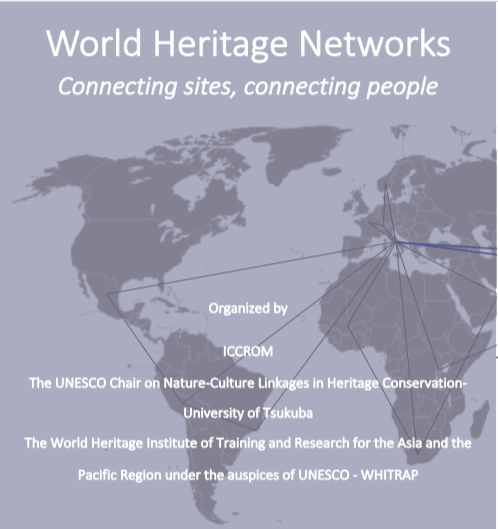 Key Words: Side,Event,of,43rd,Session,of,World,Heritage,Committee
Introduction.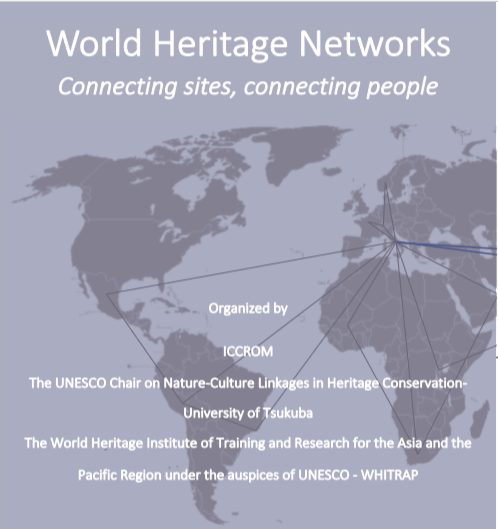 Poster
In this side event, the organizers will share initiatives on formalizing andreinforcing open emergent networks of heritage practitioners, from sitemanagers to researchers, including decision and policy-makers as well asinstitutions. Different networking platforms being currently under way at global and regional levels will be presented by Advisory Bodies, UNESCO Chair, Category 2 Centre and other partners, which objectives are to facilitate knowledge -sharing on World Heritage beyond expertise anddisciplines, and to connect practitioners dedicated to the conservation of natural and cultural heritage alike.
The UNESCO Chair on Nature-Culture Linkages in Heritage Conservation at the University of Tsukuba hosts Capacity Building Workshops on Nature-Culture Linkages in Heritage Conservation (CBWNCL) in Asia and the Pacific since 2016, with the objectives to build capacities in theory and practice on the conservation and management of landscapes whileexploring nature-culture linkages, and to activate heritage networks in the region. 45 heritage practitioners from Asia and the Pacific and beyond working in the culture and nature sectors have taken part in theCBWNCL 2016 on Agricultural Landscapes, the CBWNCL 2017 on SacredLandscapes, and the CBWNCL 2018 on Disasters and Resilience. This year, the last work of our series CBWNCL 2019 on Mixed Cultural and Natural Heritage will take place from September 24 to October 4, 2019, with a field visit to the Fujisan, sacred place and source of artistic inspiration, World Heritage since 2013.
For more information:
http://www.conservation.tsukuba.ac.jp/UNESCO-Chair/
ICCROM is an intergovernmental organization working in service to its 136 Member States to promote the conservation of all forms of cultural heritage, in every region of the world. We serve as the capacity building advisory bodyto the World Heritage Convention. For more than six decades, ICCROM has been working on its core mandate of conservation training, information, research, cooperation and advocacy. The organization engages and informs new generations of professionals and the general public with an interest in heritage.
World Heritage I Leadershipis the capacity building programme of ICCROM jointly delivered with IUCN with the generous funding from the Norwegian Ministry of Climate and Environment. The Programme takes a fully integrated approach to nature and culture, with an objective toimprove management practices by working with sites and people working on sites.
For more information:
http://www.iccrom.org/
The World Heritage Institute of Training and Research for the Asia and the Pacific (WHITRAP) is a Category 2 Institute established under the auspices of UNESCO. The Institute's mission is to strengthen the implementation of the World Heritage Convention in the Asia and the Pacific region, by building the capacity of all involved with World Heritage site inscription, protection, conservation and management, through training, research, the dissemination of . information and network building. Networking is explicitly mentioned in the mandate of WHITRAP which can also underpin achieving it objectives on one hand and benefit heritage practitioners on the other. With this objective in mind, WHITRAP Shanghai initiated HERITAGE AsiaPacific (heritAP) ,a network which aims to foster sharing of knowledge and experiences among individuals and institutions in the AsiaPacific Region.
For more information:
http://www.whitr-ap.org/