Promotion | 2022 HeritAP Chat on Impact of Ground Transportation Infrastructure at World Heritage Sites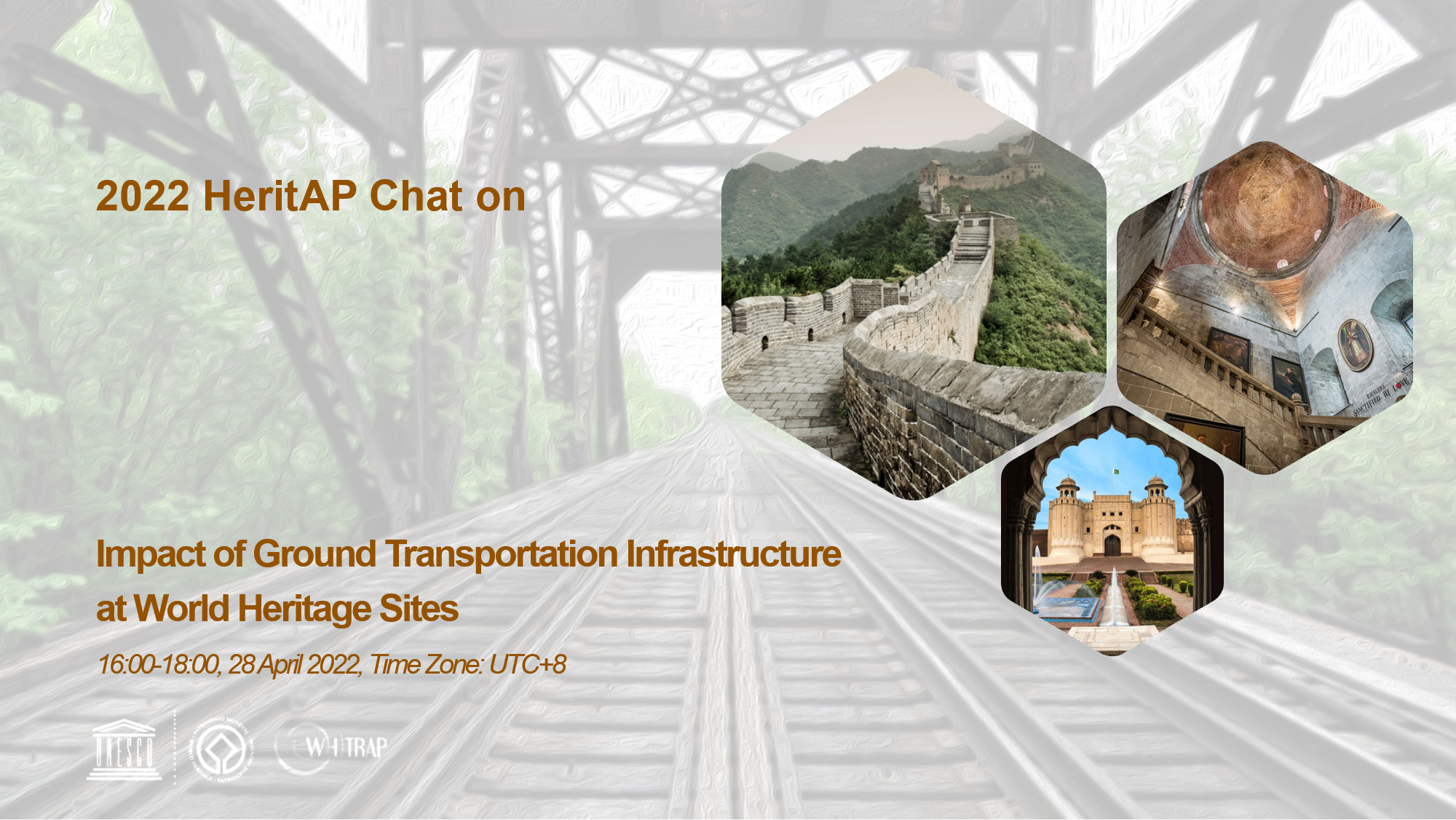 Key Words: Promotion:,2022,HeritAP,Chat,Impact
Introduction.
2022 HeritAP Chat on
Impact of Ground Transportation Infrastructure at World Heritage Sites
16:00-18:00, 28 April 2022, Time Zone: UTC+8
In order to enhance the role of networking, WHITRAP Shanghai establishes the Heritage Asia-Pacific (HeritAP), a network of heritage practitioners, which aims to promote the knowledge and experience sharing in the region. In addition to the annual meeting since 2018, WHITRAP Shanghai initiates the HeritAP Chat, with latest and most heated themes in each quarter. The first HeritAP Chat, on the theme "Impact of Ground Transportation Infrastructure at World Heritage Sites," will take place between
16:00-18:00 (UTC+8) on April 28th, 2022
.
Since 1987, there are 209 State of Conservation (SOC) reports related to such factor in Asia and the Pacific region, affecting 38 properties and 16 State Parties. Considering the aforementioned situation, this HeritAP Chat aims to focus on the consequences brought about by ground transportation infrastructure, pay attention to its impact on the heritage sites of countries in Asia and the Pacific region, and provide a platform for heritage practitioners to share measures, experiences, and feasible solutions of countries in response to the threat.
There will be two parts to this HeritAP Chat. During the first part, three cases, which are the Great Wall (China), Baroque Churches of the Philippines (Philippines), and Fort and Shalamar Gardens in Lahore (Pakistan) respectively, will be presented. Based on previous SOC reports and WH Committee decisions, members of HeritAP will provide a brief synthesis of the current situation of certain sites, look into the way that current ground transportation infrastructure has influenced their heritage conservation, and finally share necessary measures for consideration and discussion. While in the second part, 6 expert speakers, from WHC, ICOMOS, WHITRAP Shanghai, Chinese Academy of Cultural Heritage, and the National Commission for Culture and the Arts (NCCA) of the Philippines, will be invited to participate in a free chat, in which they will deepen substantive discussions on this HeritAP chat's theme and answer questions from audiences.
Detailed information is provided as below and in the booklet. Please download here:

2022 HeritAP Chat Booklet
. We look forward to your participation and will appreciate your efforts to distribute this announcement through your network to a wider audience.
Please fill the following survey to apply for the link of the meeting.
http://survey.zohopublic.com/zs/TfCCs8
Agenda
Moderator: LI Hong, Programme Specialist, WHITRAP Shanghai
16:00-16:10
Introduction to HeritAP Chat
LI Hong
16:10-16:25

The Great Wall,

China

NIU Chenshuang

Intern, Fudan University

16:25-16:40

Baroque Churches of the Philippines,

Philippines

ZHANG Yiwen

Intern, Tongji University

16:40-16:55

Fort and Shalamar Gardens in Lahore,

Pakistan

ZHANG Weiran
Intern, Macao Institute for Tourism Studies
Moderator: Gamini WIJESURIYA, Special Advisor of WHITRAP Shanghai and ICCROM
16:55-18:00
CHAT
JING Feng, Chief of Asia and the Pacific Unit, WHC;
Sharif Shams IMON, President, ICOMOS Bangladesh;
ZHANG Yimeng, Associated Researcher, Chinese Academy of Cultural Heritage;
Michael Manalo, Head, National Committee on Monuments and Sites (NCMS), National Commission for Culture and the Arts (NCCA) of the Philippines;
Fauzia Husain QURESHI, President, ICOMOS Pakistan