Promotion|2023 HeritAP Chat on Digital Technology Empowering World Heritage Interpretation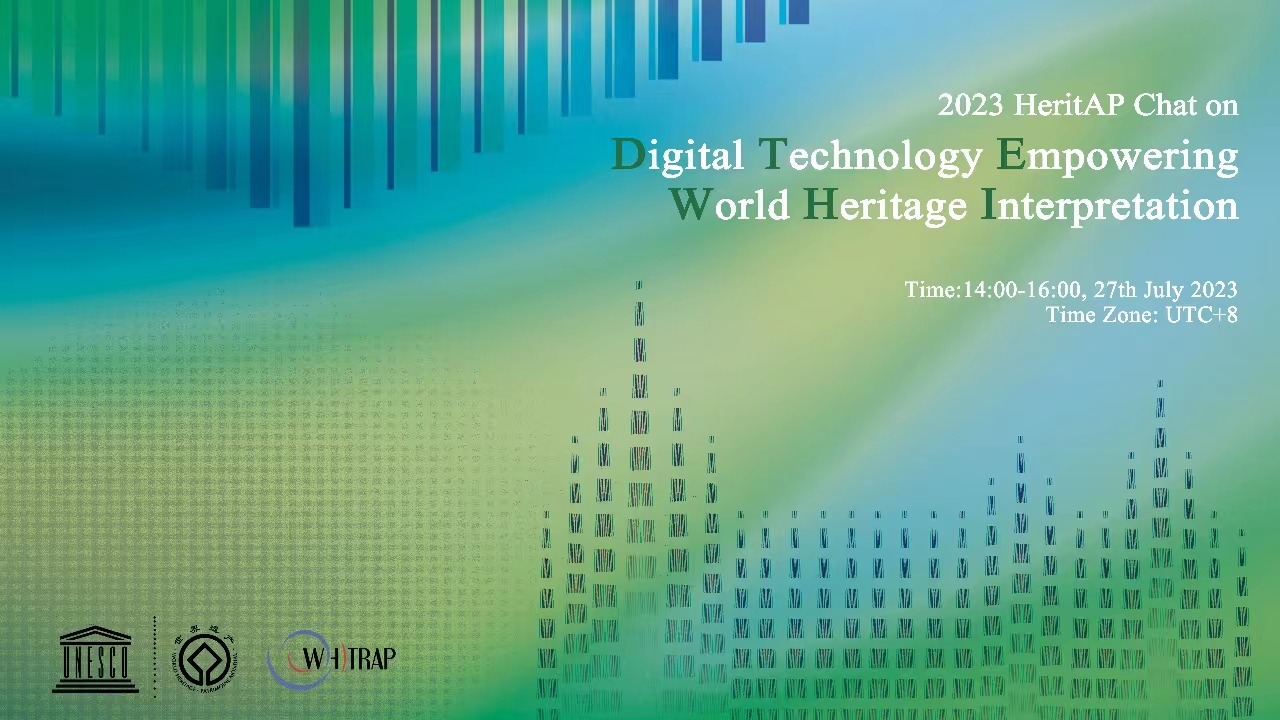 Key Words: Promotion,2023 HeritAP Chat,Digital Technology
Introduction.
2023 HeritAP Chat on
Digital Technology Empowering World Heritage Interpretation
14:00-16:00, 27th July 2023, Time Zone: UTC+8
Meeting ID: 93967082206
Passcode: 123456

Background
Digital technology plays a key role in the Fourth Industrial Revolution. It also greatly improves the practice of heritage conservation and management. In 2022, WHITRAP Shanghai organized a series of 50th anniversary activities. Among that, the session on World Heritage and the Digital Revolution was discussed. During the session, the contributions to enhancing the quality of documentation, monitoring and managing World Heritage site, and interpretation were presented.

Following the above-mentioned outcome, the 4th HeritAP Chat will focus on the Digital Technology Empowering World Heritage Interpretation. New member of World Heritage Category 2 Centres, the International Centre for the Interpretation and Presentation of World Heritage Sites (WHIPIC) will join the Chat. As the tradition of HeritAP, the session expects to explore the whole life-cycle of the World Heritage interpretation while using digital technology, from the design to operation. Four cases will be introduced from four countries. Meanwhile, effectiveness will be reflected, such as the input-output ratio and experience from various stakeholders etc. On the other hand, the CHAT will touch the critical issues where the site lacks of funds and talents. Any feasible approaches on how to use digital technology empowering World Heritage interpretation are expected to be deliberated.
Schedule
14:00-14:10
Introduction to HeritAP Chat 4
LI Hong
Programme Specialist, WHITRAP Shanghai
14:10-14:25
Connection: Using Digital Technologies to Enhance Heritage Interpretation
Nayeon LEE
Senior Programme Specialist, Strategy and Planning Office, UNESCO WHIPIC
14:25-14:40
Data-Driven Storytelling of Vernacular Dwellings on the Silk Roads
SHI Yang
Associate Professor, College of Design and Innovation, Tongji University
14:40-14:55
Digital Documentation as an Important Step in Any (World) Heritage Project

Aziliz Vandesande
Guest Professor, Faculty of Engineering Science, University of Leuven; RealVisuals
14:55-15:10
The Digital Evolution of Interpretation and Destination Development at the Archaeological World Heritage Sites: the Example of the Augtraveler Platform in India
Pankaj Manchanda
Expert Member, ICOMOS International Cultural Tourism Committee
15:10-16:00
Digital Technology Empowering World Heritage Interpretation
chat
YANG Chen
Associate Professor, College of Architecture and Urban Planning, Tongji University
Gamini WIJESURIYA,
Special Advisor, WHITRAP Shanghai

All Participants
If you want to get more information, please click:

2023 HeritAP Chat BOOKLET